Wrong Turn 6: Last Resort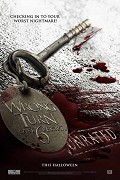 USA, 2014, 90min
Director
: Valeri Milev
---
Chris Jarvis, Aqueela Zoll, Sadie Katz, Rollo Skinner, Billy Ashworth, Harry Belcher, Joe Gaminara, Roxanne Pallett, Radoslav Parvanov, Danko Jordanov, Asen Asenov,
An inheritance leads a young man and his friends to an abandoned resort inhabited by two sketchy caretakers and a clan of mutant cannibals.
Wrong Turn 6: Last Resort (stylized as Wrong Turn VI in the opening credits) is a 2014 American horror film directed by Valeri Milev and the sixth installment in the Wrong Turn film series. The film was released on DVD on October 21, 2014.
Wrong Turn series:
Wrong Turn (2003), Wrong Turn 2: Dead End (2007), Wrong Turn 3: Left for Dead (2009), Wrong Turn 4: Bloody Beginnings (2011), Wrong Turn 5: Bloodlines (2012), Wrong Turn 6: Last Resort (2014), Wrong Turn 7: The Foundation (2021)
Genre
: Horror