Wolf Creek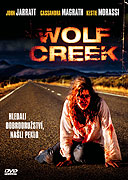 Australia, 2005, 99min
Director
: Greg McLean
---
Cassandra Magrath
, Kestie Morassi, Nathan Phillips, Gordon Poole, Guy O'Donnell, Phil Stevenson, Geoff Revell, Andy McPhee, Aaron Sterns, Michael Moody, Andrew Reimer,
Three backpackers stranded in the Australian outback are befriended by a local who turns out to be a sadistic psychopath and will plunge them into a hellish nightmare of insufferable torture.
Wolf Creek is a 2005 Australian horror film written, co-produced, and directed by Greg McLean, and starring John Jarratt. The story revolves around three backpackers who find themselves taken captive and after a brief escape, hunted down by Mick Taylor in the Australian outback. The film was ambiguously marketed as being "based on true events"; the plot bore elements reminiscent of the real-life murders of tourists by Ivan Milat in the 1990s and Bradley Murdoch in 2001.

Budget
: $1,000,000
Genre
: Horror